Antony and the Johnsons – I am a bird now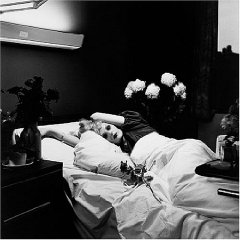 Antony gråter fram sina texter. Det blir oväntat känslosamt. Otrendigt äkta. Antingen vänder man ryggen åt och går iväg. Mot nåt kommersiellt satans la-la-land utan övertygelse eller mänskligt missmod. Eller så vågar man lyssna, släpper in och förs bort.
Jag rycks fullständigt med. Antony och hans olyckliga livsöde (född som kvinna i en mans kropp) blir på riktigt där nånstans mellan högtalare och örongång. Pianospelet är perfekt, kantigt men rörande.
Antony har med sig tre tunga sidekicks. Som att han inte riktigt vågar själv. Men det blir lika starkt då. Boy George gör en vansinnigt vacker duett, Lou Reed knäpper på gitarren och pratsjunger, Rufus Wainwright (också han i klänning) får en hel låt för sig själv.
Albumet tränger genom alla filter. Det är fan bara att gratulera.
Betyg: sex av sju K7´s.
Drick till: svart kaffe.