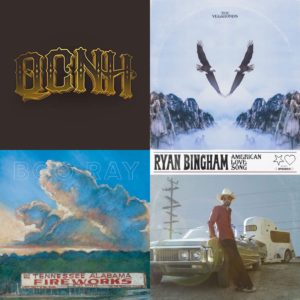 Americanaåret 2019 öppnar starkt. Vi har redan hört Hayes Carll, Strand of Oaks och annat som smattrar. Här presenterar vi fyra nysläpp som svänger bra i den röda myllan. Boot up!
Quaker City Night Hawks – QCNH
The Vegabonds – V
Boo Ray – Tennessee Alabama Fireworks
Ryan Bingham – American Love Song
Quaker City Night Hawks (från Texas) öser på frenetiskt och smakar både bluesrock och southern comfort. Vegabonds (från Tennessee) är välkammad/välspelad nycountry med radiofeeling. Boo Ray (från North Carolina) är skön trucker-troubadour. Ryan Bingham (från New Mexico) har raspet i rösten och låtar som berättar stories.
Så gör som vanligt. Köp först de fyra plattorna på cd. Köp sedan en cd-växlare. Köp sedan en bil. Montera in cd-växlaren i bilen. Stoppa in cd-skivorna. Tryck på repeat. Kör sedan vägarna fram, till solen går ner. Enjoy!
••• PS: Vill ni lyssna på Jonas & Magnus när vi går igenom bandens hemstater i Kentuckysevens Podcast? Checka in detta: