Have you met… The Far West?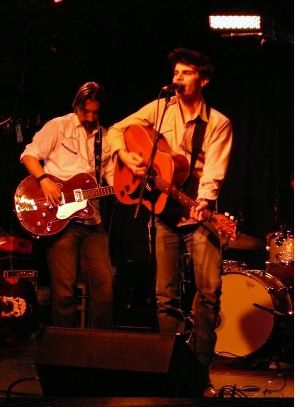 You know that real Americana. The one where you can feel that worn out seat of a rugged pick up. That feeling of really dusty boots with worn out heels. And a broken heart.
That kind of Americana is played by The Far West. No more no less. It's genuine down to that last longneck, sliding over the steelguitar.
The boys, Lee Briante, Robert Black, Erik Kristiansen and Tony Sanborn are hitting the right notes down the road that is great american folk and country music.
They have been described as something like" Waylon's band jamming with Wilco" which should be something every band like this would put up on their walls and be proud of.
The Dylan-fan will be feeling right at home in songs like "White Freightliner", which sounds like its carved out of a 70's Dylan record, and molded into The Far West.
The debut album is released today, and the band is headed out to SXSW for two shows, 15th and 16th @ B.D. Riley's Pub and Waterloo Ice house.
April 3rd they will play @ The Grand Ole Echo in LA, with another of the Kentuckyseven favorites, Maxim Ludvig & The Santa Fe Seven. Now there is a show we would like to attend.
Get to know The Far West better @ TheFarWestBand.com
Listen to the tunes @ Myspace