Iceland Airwaves – Young Galaxy @ NASA

Young Galaxy
NASA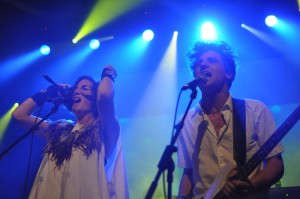 Feathers and face-paint seems to be a recurring theme here on Airwaves. Last seen on the singer of Young Galaxy sporting the persona of a bird matching their song B.S.E.
Young Galaxy put on a show that the crowd won't forget anytime soon. With fierce stage presence, excellent execution and great connection with the audience they soon had everyone in the house in extacy. Even the otherwise so stiff press people. The photo pit in front of the stage was filled with photographers singing along, shaking their derrières and smiling like kids in a candy shop – which was a very unusual sight indeed.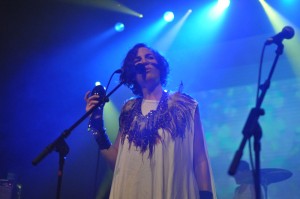 There is no wonder even the stiff professionals lost their mask, the entire NASA was over the moon. Jumping, dancing and making the most of the Canadian visit. Whenever you would make eye contact you'd be met with an ear to ear-smile and a face of pure glee.
Young Galaxy's latest album Shapeshifting is a brutally well made album that leaves you missing nothing. These albums are difficult to come by and to be honest there was this nagging question in my mind wondering if they could live up to my astronomically high expectations of their live show. But they did.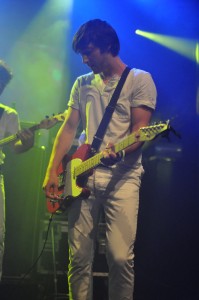 Off venue though they were crowded and slightly uncomfortable. The tiny gig on Reykjavik Downtown Hostel was packed, but not a performance to remember. K7 decides to put that aside and instead continue to be in awe of the full scale gig at NASA.
This is a Kentuckyseven, without a doubt. Magic. Heartfelt. All out.
/Maja, K7 correspondent