Interview: Nathan Willett of the Cold War Kids
We got an absolute gem for ya´ll = an exclusive interview with singer Nathan Willett of the awesome punksoulband Cold War Kids.
The Kids release their new album Mine Is Yours Jan 25 and you´ll find the review come Monday morning right here on Kentuckyseven.
Until then, enjoy!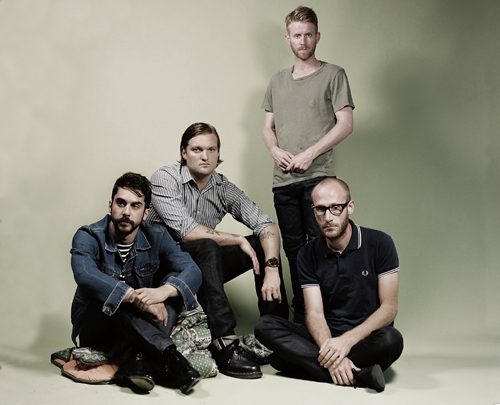 Photo: Lucy Hamblin

Congrats on a great new album! Your hopes for 2011?
"We want people to dig deep in this album. It's not an easy one, but it has a lot to offer. I think we'll be touring it all year."
Any books or records that have influenced you in the making of Mine Is Yours?
"Woody Allen – Husbands and Wives. Cassavettes – A Woman Under the Influence. Jonathan Franzen – The Discomfort Zone."
Track #8 "Bulldozer" have been on repeat @ Kentuckyseven for quite a  while. What can you tell us about the song?
"It probably embodies the content of this record more than any other song. The struggle of relationships. It's the band's favorite song."
No band opens a song as brilliantly as you guys (readers: check out track #10 Cold Toes On The Cold Floor). It´s like you´re not ready and then it rolls on like a circus in a thunder storm. How does that work in the studio?
"We like to do things live. We like to hear things in the background, or tape rolling or something natural."
I sense a diffrence in the sound, the lyrics and the approach of the new album. It´s more Cold War Men than Kids, it´s a more mature album if you will. Agree?
"Yes. Lyrically, it's less fictional character driven, more journalism/autobiographical. Coming from a group of friends who are crossing in to age 30, dealing with relationships and commitment."
The album is produced by Jacquire King (Tom Waits, Kings of Leon). What´s his input to Mine Is Yours.
"Jacquire put us at our best. He watched how we work, let us exhaust and idea and suggested new ways to think about arrangements. Simple, mystical stuff."
Any swedish memories you could share with our readers?
"The first time we went to Europe was for the Oya festival five years ago or so. Beautiful girls with great educations."
In my book your previous full length albums Robbers & Cowards (2006) and Loyalty to Loyalty (2008) are just epic stuff. This is your third one, could you see CWK doing three more albums?
"Absolutely, I think we are in it for the long haul. We try to think of every record as the first."
I played track #3 Royal Blue to my wife the other day. She couldn´t stop dancing. Is this dance music?
"The guitar line on that song has a certain swing to it that'll get ya moving."
Thanks for a great album, take care and hope to see ya´ll soon!
"Cheers!"