Review: Calexico
¤ Artist: Calexico
¤ Title: Selections from Road Atlas 1998-2011
¤ Release: Today November 21, 2011 via City Slang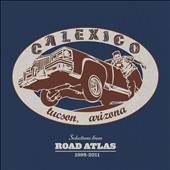 Calexico is a true Kentuckysevenband. Based in Tucson, AZ, the band mix their Southwest-sound with everything good in the world. It´s always for real and never easy.
During the past 14 years the band have self-released eight tour CDs. They will now hit the public eye, and on top of it all the band have picked out 16 songs on this "greatest"-compilation. Makes me wanna stay indoors, next to the stereo, all winter long.
We got country, americana, indierock, and jazz – sometimes all in one song. It´s instrumental cowboysongs, the band saddle up and head onto the prarie. It´s a perfect introduction to Calexico, or a daring distraction to the studioalbums. Either way – this is drugs to my ears.
Listen to this beautiful lullaby, All The Pretty Horses.
Or this sweet song, Glowing Heart Of The World.
6/7 Kentuckyseven´s.