Review: Drive-By Truckers – Go Go Boots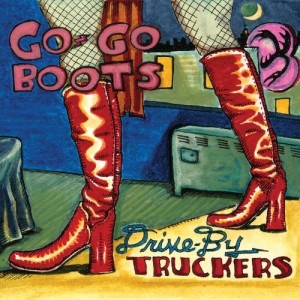 Releasedate: Feb 15 on ATO Records.
Drive-By Truckers have three singers (Mike Cooley, Patterson Hood, ShonnaTucker) and have recorded eleven albums. Go Go Boots puts them right where I like em.
This is a step into the bona fied countrygrass, a familiar place for the Truckers yet not always their most abraded runway. It suits them perfect, like a strong cup of coffee in the morning sun.
As always you hear the roots, the Neil Youngs and the Tom Pettys, the blues, the soul and the heartland of great americanamusic. It´s a soundtrack to that movie you love. Long, slow, steelpedaltunes. Three great voices. And a couple of songs that really makes a difference.
As DBT state in the first song: "I do believe, I do believe, I do believe."
Fair enough.
¤ Judge says: 5/7 Kentuckyseven´s
¤ Best tracks: Everybody needs love, Used to be a cop.
¤ Drink while you listen: Zoega´s Intenzo