Honningbarna
Gaukur á Stöng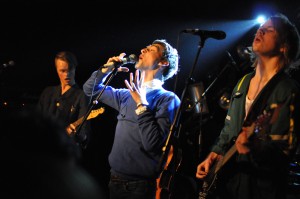 These youngsters are surely up and coming. And mad. You could not believe how mad Norwegian teens can be.
When the show was about to start the entire band made a point of entering the stage through the audience. Pushing and shoving as if to start their own chaos and mess. And it worked, the crowded venue soon turned rowdy in just the right way.
K7 are aware that Honningbarna, meaning Honey children, might very well be out of the comfort zone for regular K7 readers and their ears but these guys have something relevant to say. Not only that, but they manage to say it an convincing, captivating and enthusing way – and with a cello. Come on, how can this not be anything short of fantastic?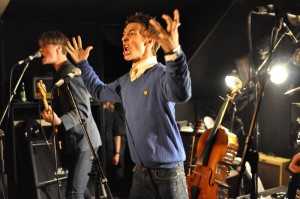 Honningbarna kept up the high energy performance and didn't hold back on anything. When the singer picked up his cello and started playing like a mad man the strings on the bow were soon flying across the stage.
It wasn't very long ago since these guys won a prize in Norway for the best up and coming band and I'm not surprised even in the slightest.
Some of the songs are classics within the punk genre, such as Fri Palestina, "Free Palestine", but that's not the point. These guys are more than just copy cats of their priors. When the singer stands there in a tidy blue sweater with a clean shirt and tie underneath and sing about the ungrateful children of the bourgeois it's not a coincidence.
With said high energy, excellent execution and relevant material Honningbarna is a 6/7. I can't help it. They're just that good. The Kentuckyseven is reserved for their future, they're not done yet.
/Maja, K7 correspondent