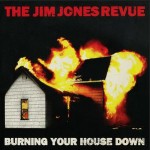 I am completely blown away.
If you ever feel that things aren't really rockin', you know a dark and rainy sunday in november, you keep waiting for the clock to strike bedtime. Screw that. Get yourself a copy of Burning Your House Down, get the most fragile things out of the way, put it on, get it on.
The album has got soul, power, some-kind-of-insane-energetic-boogie-feel. I am sure that your sunday will change to the better. Much better.
If this doesnt get your rocks on, you should probably go to bed early.
Rock on. I know, it's a cliche, but darn it rocks.
Our friends at Woody West know their stuff, The Jim Jones Revue is playing @ Pustervik 9/12, and from what I've heard this is a show you don't wanna miss.
The event on Facebook: Jim Jones Revue @ Pustervik
Listen @ Spotify: The Jim Jones Revue