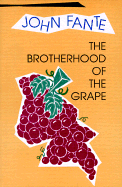 Har precis läst ut The Brotherhood of the Grape av John Fante.
En rakt igenom fantastisk bok, som ett strypgrepp på tillvaron.
De tio sista dagarna i stenhuggaren Nick Molises liv.
Fante är Charles Bukowskis stora inspirationskälla.
Stor, enkel, genial litteratur när det är som bäst.
Jag önskar jag hade den framför mig.