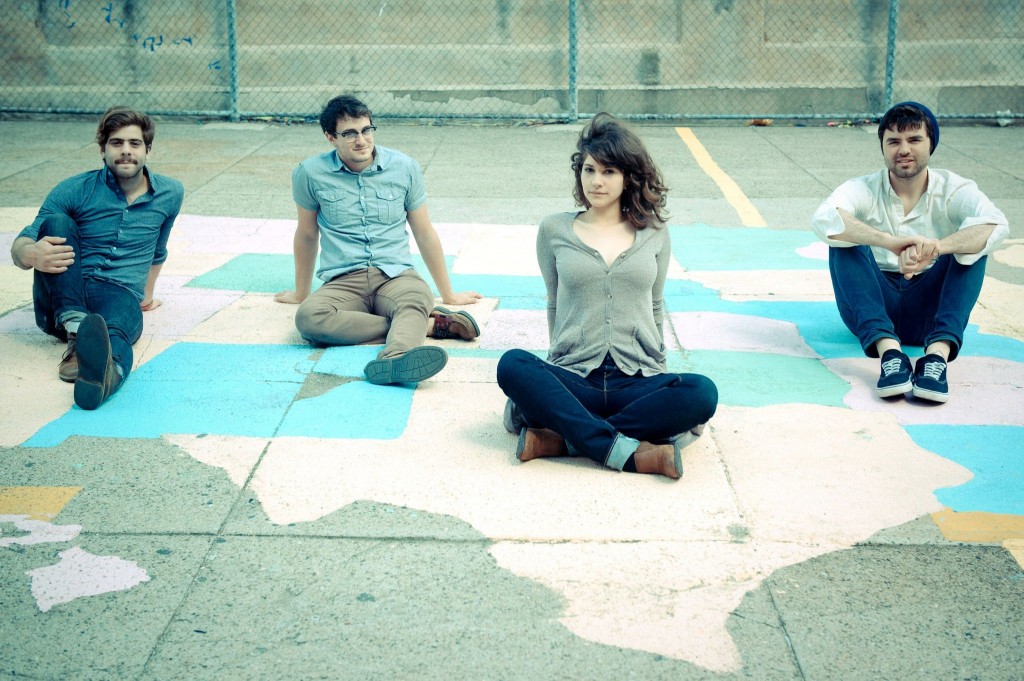 The New York based indie-folk-pop band Swear and Shake has caught our attention with their enchanting music and sound. When we first listened to them, it felt as if we had been friends for years. This is something you have to get your ears into.
After last years EP "Extended Play", they are now finishing up their new release.  This is truly a band to follow. We hope for great success, nothing less.
Kentuckyseven got curious and wanted to know more about this awesome group of people,  so we had a chat with Kari Spieler, the great vocalist and musician:
When listening to your music, one thing comes to mind. You guys complement eachother extremely well. How did you all get together?
"Adam and I met while studying at SUNY Purchase ( a state university just outside of New York City). While we weren't close friends, we were both active singer-songwriters on campus and often had class together. About a month or so before graduation (2010) Adam asked me to sing on his song Johnnie and things instantly clicked between us. We immediately started booking shows and thinking up band names. Our drummer and bassist, Tom and Shaun, joined us shortly after that. The boys grew up together on Long Island and had been playing music since they were in grade school. It all happened very naturally."
There are thousands of bands accesible to everyone today online, how has that effected you career?
"The internet is a bands best friend. Especially this band. We are huge advocates for using social media outlets. We are all over Twitter, Facebook, and Youtube. We're proud to be on internet radio sites like Grooveshark and Spotify. Through great websites like Frostclick.com our first EP was downloaded for free by over 200,000 people. We successfully funded our forthcoming record with the help of our fans and Kickstarter.com. We are big supporters of all different types of blogs, big and small.
It's important to get your music out there to anyone and everyone. Using the web is a good way to keep in contact with people, and it's also enabled us to bring our music to lots of ears without the help of traditional music business outlets. I think people appreciate being able to connect with us directly and we enjoy it as well."
How would describe your music to someone who never heard you?
"We usually put ourselves in the Indie-Folk-Pop genre. We write singable stories you can dance to. That's how I like to think of it. If I were to compare us to other bands or musicians I like to say Edward Sharpe and The Magnetic Zeros meets Mumford and Sons with a little bit of Cat Power for attitude."
While riding to a venue, what do listen to? Are you synced, do yo agree on the same tracks?
"This is a good question. My one rule is that once you put something on, you have to let it play through without changing it. We don't always agree on everything. I usually get vetoed actually, haha. Pandora on our phones is usually a good compromise and that works out well assuming there's good service. I enjoy listening to classical music stations on NPR when we're driving for several hours at a time, that makes the boys fall asleep, anyway. My favorite thing is to watch Tom jam out to Styx while he's driving."
What artists have influenced your music?
"Our influences come from all over the place. Starting with the classics, The Beatles, Dylan, The Mama's and The Papa's, as well as soul music like Bill Withers, Aretha Franklin, and Smokey Robinson. I've found great inspiration Patsy Cline and Kitty Wells. On the newer side of music, we love The Format, Margot and The Nuclear So and So's, The Avett Brothers, Broken Social Scene, and we are proud Phantom Planet fans."
Any bookworms in the band, any advice on authors to check out?
"We all enjoy reading but none of us are bookworms. I'm not up to date on new authors. I'm currently reading The Sun Also Rises, Ernest Hemingway. Shaun and I share a love of Kurt Vonnegut. One of my favorite books is East of Eden, John Steinbeck which influenced a few of my songs. I remember reading in an interview with Mumford and Sons that they too found inspiration from that story."
What can we expect from your coming album?
"Expect a very dynamic record from us. The best thing about being in this band is the collaborative effort between all of us. While Adam and I write the songs, Tom and Shaun bring them to life. It definitely represents us as a matured and seasoned group. The EP has more of a singer-songwriter feel. This record has a depth you can really get into. It shows our versatility and passion. You can expect to hear usual stories of love and sorrow as well as songs about demolition, adventure, and much more."
Tell us about the idea for financing the new album, who came up with the idea?
"Kickstarter.com has become a very popular fundraising website in the past couple years. We've known a few different bands that have successfully funded their projects through this site. It was Adam's idea to give it a go and we took to it pretty quickly. It follows our philosophy to get our fans and family involved as much as we can. We really attribute the record's existence to the them and Kickstarter and we're very grateful and humbled by the experience."
Last, if you would name one band who you wished would have a breakthrough in 2012, except yourself, which we are hoping for, who would you choose?
"The band we would choose to have a breakthrough with out a doubt is Pearl and The Beard. They don't really need our best wishes, they are really kicking butt right now. We love these people and love their musicianship. Definitely check them out."
Listen to "Johnnie" and get to know the music. Check out the website for more information: SwearandShake.com