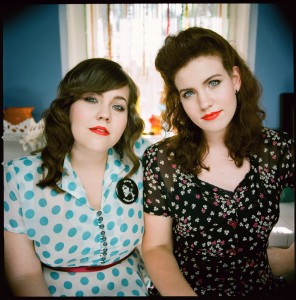 From Alabama, let´s hear it for Lydia and Laura Rodgers. Two sisters of mercy, made a debutrecord of oldschool music in a vibrant mood.
The Secret Sisters, maybe not a secret any more, makes me wanna go back to a time of americana heartland, a time before country music, a time of sweet potatoes and apple pie.
They made their 11-song debut on Belaroit/Universal Music, released by the awesome T Bone Burnett, and hitting Kentuckyseven´s soft spot.
The sisters have shared stage with Jack White and Elvis Costello. Coming up is the European tour, kicking of Feb 16th, and yes – they play with the almighty Ray LaMontagne.
¤ Next gig: Tonite Jan 14th on Higher Ground in South Burlington, tomorrow  Jan 15th Bowery Ballroom in NYC.
Secret Sisters – Myspace, Secret Sisters – Home, Secret Sisters – Spotify.