Bandet [ingenting] gjorde en av världens vackraste plattor under 2009, "Tomhet, idel tomhet". Som jag skrev i recensionen:
"Ibland är en skiva något större än just en skiva. Som en känslostorm stöpt i musikform. Eller kanske det som finns kvar efter stormen, ett soundtrack till ett härjat landskap. Som [ingenting]."
Kentuckyseven är stolta att introducera bandets trummis Niklas Lundell (längst till höger på gruppbilden) i vår speciella intervjuserie. Glöm inte att lyssna upp: ingentings myspace.
Tack, Niklas!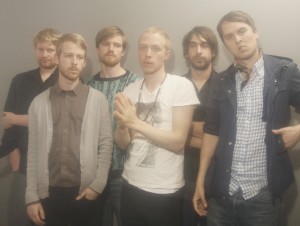 I lurarna just nu?
¤ Primal Scream – xtrmtr
¤ Oscar Schönning – s/t
¤ Noah & the Whale – The First Days of Spring
Din bästa läsning under 2009?
¤ Siri Hustvedt – The sorrow of an american
Vem är värd årets genombrott 2010?
"2010? Det återstår att se…"