Review: The Low Anthem – Smart Flesh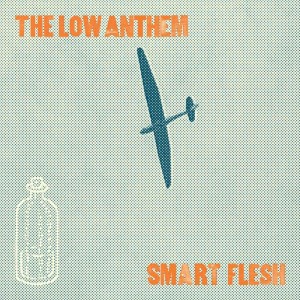 Released Feb 21 via Bella Union.
This Rhode Island (a sauce in Sweden, a place in America) quartet got all the checks they ever gonna need. Facial hair. Check. Lo-Fi. Check. Checked shirt. Double-check. This is an introspective, honest bunch.
Smart Flesh aint no Oh my God Charlie Darwin – the bands breakthru from 2008. Then it was a splattered Wilco/Bon Iver/Tom Waits/Fleet Foxes-vibe. This is more of a one way street, recorded in a Pastafactory with an eerie sound. Some parts I don´t understand, like the instrumental song #6 Wire. Puts my focus elsewhere.
This is a beautiful album. It´s lullabies for the people, it´s rootsy ballads, it´s that folk-acoustic music that belonged before us, long before man and his guitar. It´s the greater picture and you will have to kneel down to the power of songs like Boing 737, Hey All You Hippies and I´ll Take Out Your Ashes.
Smart Flesh is a record who needs your full attention, or it will get lost.
¤ Judge says: 5/7 Kentuckyseven´s
¤ Best track: Hey, All You Hippies
¤ Drink while you listen: Anura Pinotage Syrah (heavy, southaf, darkred)