What are you listening to, Brown Bird?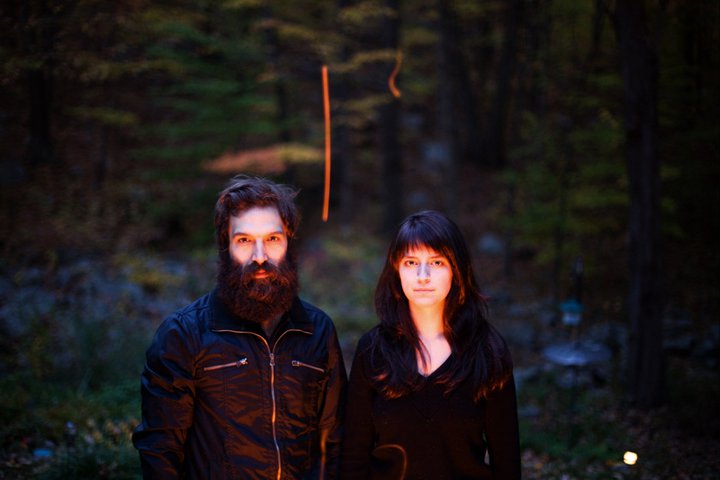 Photo by Mikael Kennedy
The list of great bands from Providence RI can be made long. We have met quite a few of them on our journey here on Kentuckyseven. When we hooked up with The Low Anthem, we asked them about what bands to look out for. They named the band Brown Bird, and the love was instant.
Dave Lamb and MorganEve Swain create something of a supernatural feeling with their music. Nature is present, the great unknown feels present and yet this is as "close to the ground" as possible. The sensation of rural North America is magical. This is what music is all about. Instruments as well as harmonies shows you pictures of love and struggle and relations between man nature and everything in between.
I just want to sit next to an open fire in a small wooden cabin, and listen to this music. And let myself be swept away to places not yet known to me.
We asked Brown Bird about things that they like to be swept away by:
What are you listening to, right now?
"At this very moment we're on tour driving from Tempe, AZ to SanDiego, CA listening to the audio book of "Slow Fade" by Rudolph Wurlitzer narrated by Will Oldham and D.V. DeVincentis. The music we've listened to most on this trip has been Erkin Koray, Omar Khorshid and Gabor Szabo."
Best book read in a while?
DL: "Henry Corbin's "Swedenborg and Esoteric Islam." I found out about this book on the Museum Without Walls section of webofmimicry.com. To a westerner raised in a household of American Christianity, Corbin's article on the Imaginal World and his comparisons between the Esoteric Christian and Esoteric Islamic interpretations of the stories of Adam & Eve and Noah's ark were a breath of fresh philosophy. Or perhaps he's articulating some of my own views much more eloquently than I ever could."
MES:" I find it hard to read while on the road, but the last book I completed was "A Separate Country" by Robert Hicks, which is about a confederate general living in New Orleans dealing with post-war guilt. I read it during a week off that we were lucky enough to spend in the Bywater of NOLA, which heightened the whole experience."
Your hopes for this year?
"We hope to thoroughly enjoy playing our last few tours of the year. We also hope to record our best full length album yet when we head back into the studio this December."

Three artists who inspire you?
"It's really hard to pick just three but if we have to narrow it down here's the first names that come to mind right now.
Trey Spruance (Secret Chiefs 3, Mr. Bungle) an incredible guitar/prepared instrument player and arranger.
Joel Thibodeau (Stringbuilder, Death Vessel) one of the best lyricists/songwriters around.
Chris Corsano (Six Organs of Admittance, SunBurned Hand of the Man, Bjork, Rangda, etc.) an innovative and very skilled drummer with a great feel and unique style."
Who deserves a breakthru in 2012/2013?
"We're gonna go ahead and show some New England pride here by mentioning a few of our friends whose music we love and want the rest of the world to hear and hopefully love as well. Joe Fletcher & The Wrong Reasons, Death Vessel, Micah Blue Smaldone and Alec K. Redfearn & The Eyesores. All of these groups have new albums coming out at various times over the next year and from what we've heard of each, they are not to be missed.
Here at Kentuckyseven we are looking forward to hearing more great music from Dave and MorganEve, so we will be looking out for the next album. That is a promise.
Check out Brown Bird online: BrownBird.net
Listen to Brown Bird: