Review: Heidi Spencer and The Rare Birds – Under Streetlight Glow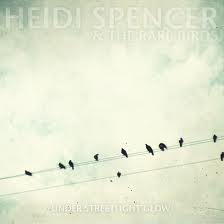 Heidi Spencer And The Rare Birds – Under Streetlight Glow
Bella Union. Releasedate 2011-01-17.
The record begins. I´m letting Heidi Spencer enter my atmosphere. She sings, with her battered, mistreated, cruel, hurting, fetching, blinding voice.
"No one need to know
We laid around all day
Let´s make up a good – alibi
Let´s take it to the grave
Take it to the moon."
Well, Heidi had me at hello. This is a sad record, yet heartwarming. It´s like a wind that carries you on. To the next place, maybe even a better one.
It´s haunting music that keeps rolling in. The Rare Birds make a perfect terrain to Heidi´s voice. It´s all about the voice. It´s there when the drugs won´t work.
This is Heidi Spencer´s third album. It´s her first on the great indie label Bella Union (Low Anthem, Midlake, Beach House). It will make the difference. It will take this Milwaukeegirl for a ride into the charts, well deserved.
Heidi Spencer remindes me of Emmylou Harris, Tracy Chapman, Tom Petty. Whatever. She´s made a perfect soundtrack to a rainy Sunday.
I´m listening to the gutting #3 track Moth Met Spider. In the words of Kurt Vonnegut; So it goes.
¤ Judge says: 6/7 Kentuckyseven´s.
¤ Best Track: Alibi
¤ Drink while you listen: Whiskey, no rocks.
¤ Check it out: Heidi on Spotify, Heidi on Myspace.