Rocky Votolato – The Brag and Cuss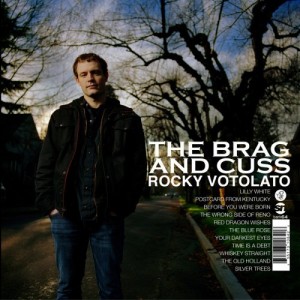 Jag såg den sista Rockyfilmen häromdan. Med farsan i Spårhaga. Det kändes tryggt och lagom respektfullt till en filmserie som ändå betytt något.
Jag får samma känsla när jag lyssnar på Rocky Votolato. En trygg, skön känsla. Lite som att komma hem. Altcountry med munspel, finstämda texter om whisky och annan sprit.
Rocky Votolato föddes i Texas 1978, bor i Seattle och har spelat i flera grupper jag aldrig hört talas om. Han har gått från rockband till ensam folksångare och det är bara att applådera. I vissa stunder äger Rocky sin genre.
Jag tänker hänga med Rocky Votolato framöver, vart han än går. Han är helt enkelt jävligt bra på det han gör.
Betyg: Sex av sju K7´s.
Drick till: vadsomhelst på ett tåg, på väg bort