Sin Fang og Superband
Hrésso (off venue)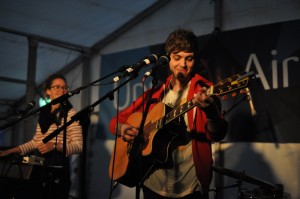 Sindri Már Sigfusson is the singer of Seabear and the voice and mind behind Sin Fang since a while back. Alongside his newly put together super-band he played in a tent in a backyard behind a restaurant. Quite an odd place for a gig and kind of tricky to locate. Despite that the place was filled to the brim with eager listeners trying to get a glimpse of Sindri.
The show started late so early birds could catch Sindri in the audience before the show with his toddler on his hip. It's at that point that I realize that this is what Airwaves is all about. People flying in from all across the world to a rainy city and watch Icelanders play in their backyard. And it is truly nothing short of amazing.
Sindri's super-band consists of friends from various Icelandic bands and one of them have homemade guitar pedals made out of tuna cans.
Tuna cans. Airwaves is about making the most out of scarce resources and boy do we appreciate it.
With three mics in front of Sindri he manages to recreate that same peculiar sound-scape that he caught on his last album. This could be one of those gigs where a guy just stands there with his guitar and sings a few sweet tunes but this is more than that. Somehow.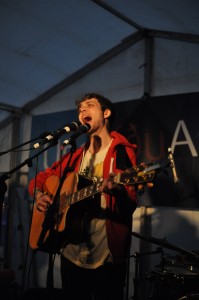 The wind was blowing through the tent and the combined heat of the audience couldn't keep out the cold. On top of that Sindri's guitar almost died on him during the second to last song. After a minute or two of nervous fiddling, pleading along the lines "please guitar, don't die, I've been so good to you" the show could continue.
When Sindri and his super-band play the last song they go out strong and it is clear that both the audience and the band tries to make the most of this small off venue gig as the full scale gig later that night is scheduled at the same time as Beach House.
Despite the make shift tent, the cold, the guitar almost dying, the delay and the short time that they played it was this something extraordinary. Sindri is one of those musicians that manages to create magic so easily, right before our eyes and we have no idea how it happened. But we are spellbound.
5/7
/Maja, K7 correspondent