The übergreat festival on the volcanic island has opened up its glorious field of music. Airwaves, featuring tons of Icelandic bands as well as international acts will be something to remember.
Kentuckyseven is represented by the most competent and super talented Maja Sigfeldt. Her first report, from the island of indie music.
For a Minor Reflection
KEX (off venue)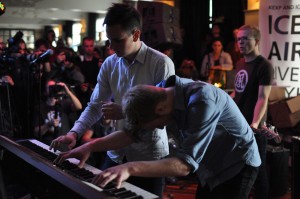 It's time to introduce the Kentuckyseven listeners to some Icelandic post rock galore. This weekend there'll be reviews from the Iceland Airwaves festival i Reykjavik. This is a Mekka for indie lovers from all over the world.
Airwaves opened strong with For a Minor Reflection who treated the audience on a 4 song teaser in the early afternoon. The old biscuit factory turned into a hot, packed shelter from the rain and wind outside. It became evident that this band is something extraordinary and had people on their toes and the press were crazy.
And with all right. These guys have something that other post rock bands seem to lack. There is no simple way of explaining just what that something is but the audience can't seem to get enough of it.
One way of trying to explain it would be to say that most bands try to put emotion into the music that they're making. Icelandic bands seem to make music out of emotion.
It's the sound of emotion. And with FaMR this especially evident. When these guys mangle their instruments everything around you stop. Nothing matters, you just know that your heart is aching and there is no way to deny it. And you know that everyone else in that venue feel it too.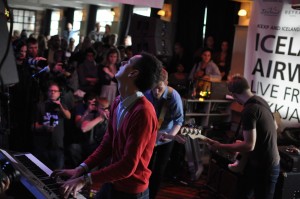 FaMR just released their new EP, that's actually named EP, with the help of pledgers. It's an idea built on devoted fans paying for the EP and some exclusive material before the music is even recorded. For this to work you need fans that actually believe in what you do.
There is no doubt that FaMR is among Iceland's finest. All the fuzz about Icelandic music as something exotic, as the sound of volcanoes, grand nature, harsh winters and so on is so irrelevant. This is music that is beyond those clichées and deserve to be compared to music outside of Iceland. And in that perspective they hold their own very well.
Be sure to catch these guys live if you have the chance. It is truly an experience that you don't want to miss out on.
This teaser of a concert get 5/7, mostly because we don't get enough after just four songs.
/Maja, K7 correspondent