Releasedate: 2011-06-20
Label: Heavenly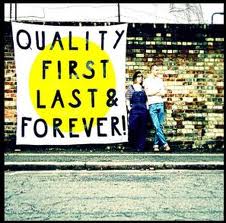 Trevor Moss and his lawfully wedded wife Hannah Lou bring us a folky piece of record that is pretty much up our devoted Kentuckyseven-alley.
These Londoners made a choice and left the city, moved to the southeast of England and into a 14th century pub where they live and recorded this sweet piece of music.
My personal fav is the awesome Charlie Parr-cover Cheap Wine. Trevor Moss does this in an uptempo-feetstompin-beautiful-version that makes me wanna embrace this world we wander.
QFL&F is an old-fashioned album. Something to ponder, something that will sink in. It is also a sweet summer-record to enjoy with family and friends. Life doesn´t have to be harder than this. We dig.
¤ 5/7 Kentuckyseven´s
¤ Vid 1: Cheap Wine
¤ Vid 2: Spin Me A Rhyme