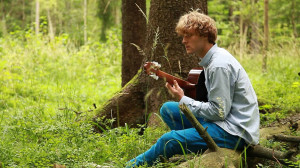 Patrik Jakubowski, who is normally found behind the bass in punkgrungerockers Riddarna, releases his first solo EP Ocean. Kentuckyseven is very proud to exclusively give you a first taste of the EP that'll be out tomorrow November 18.
Ocean is a thing of nature. We join Jakubowski in his green mode. Forest and moss, river and sky. The smell of pine needles and resin thru the air. The acoustic guitar is there to guide us, a Fleet Foxes kind of vibe. Mezmerizing, hypnotizing.
The theme that pervades Ocean is a desire to be wild and totally unrestrained surrender to nature's wild grip. The EP, which is co-produced by Bob Hund's Christian Gabel, give promise of more shimmering songs around the corner. We, for sure, are spellbound.