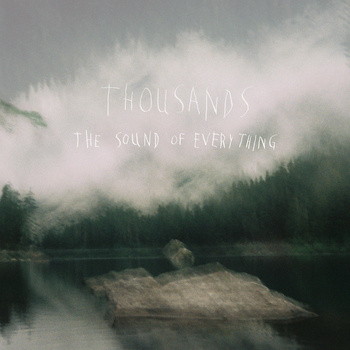 Label. Bella Union
Releasedate: 2011-03-21
Thousands is Kristian Garrard and Luke Bergman, hailing from Seattle, voice-match made in heaven I'd say.
Their debut "The Sound of Everything" is something special. Recorded throughout the US vast pacific northwest. The record contains sounds of not only great vocals, hymnal sound and instruments, also the sound of birds chirping, leaves falling. Nature recorded on their journey to create the album that would become "The sound of Everything".
As Thousands themselves explain "- We want people to listen to this with headphones on and feel like they're immersed in these locations, and there's us, sitting next to you, playing a song."
This is yet another delicate example of great debut records, and another golden star in the book of magic artists signed to Bella Union.
Fleet Foxes' guitarist Skye Skjelset, brought the attention to the label, and somewhere in the beauty of this album, there is a little fleet fox hiding away.
Listening to this, makes you feel good. It is by definition a feel-good sound throughout all 12 tracks, and it appeals to me. The way I need to feel. Kristian and Luke's vocals are somehow mixing, melting together and gently steering the way in to the listeners heart. I am sure that it will not be long until I am driving my car to the store, humming these tunes.
Looking for something new and fresh, which will make your day just a little brighter. You might just have found it.
The Sound of Everything is a sure 5/7, and Thousands will be something to try and catch this year…






Check out more about Thousands @ Thousands.com or get a feeling of the album to come here…