What are you listening to, Langhorne?
I´ve loved Langhorne Slim, or Sean Scolnick if you will, since the first day I heard him sing. It´s something about him. Something wonderful and unique. One day I will shake his hand and buy him a cold one. That is a promise.
His last album hit the scene 2009, and instantly became my #1 album of the year. Since then this 30 year old folkrocker from Langhorne, Pennsylvania has been on stage. On every road, as Mark Knopfler said. He is wandering the soil of America and you can hear it in his voice.
Kentuckyseven is proud to present a smalltalk (a WAYLT) with Slim. Check out his next gig = Jan 19 Belly Up Tavern CA, Jan 20 Galaxy Concert Theatre CA, Jan 21 The Music Box CA, Jan 22 The Fillmore CA.
And let´s give him a hrmph for admiring the K7-darling book.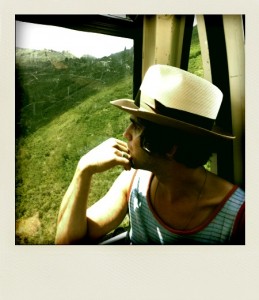 Langhorne, what are you listening to right now?
"Bill Withers Live at Carnegie Hall.  It is amazing!"
Best book read during 2010?
"The Master and Margarita."
Who deserves a breakthru in 2011?
"We are currently on tour with an artist from Scotland named Ryan Lauder and we love him.  Check him out!!"