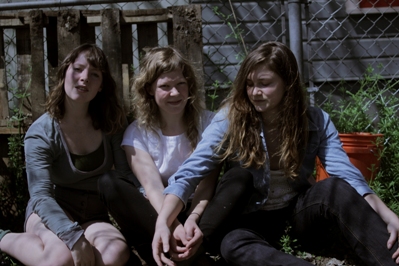 Photo:  Henrik Burman
One of the best albums of 2010 was a debut album, an album that is pure magic. Made The Harbour by Mountain Man is a beautiful piece of musical art.
The feeling of beeing right there, just when the music is played for the first time is very present. You can hear the silence in the room, just before the powerful voices of Molly Erin Sarle, Alexandra Sauser-Monnig, Amelia Randall Meath fills it up with an amazing ambiance. The mighty sound of steelstringed guitars, banjos and the ambiance itself.
The voices of Mountain Man is something you need to experince for yourself. You will fall in love, just as Kentuckyseven did.
We caught up with Amelia just as she was moving, but she took the time to tell us what she listens to:
What are you listening to?
– Right now I can't stop listening to Dire Straits (s/t). Mark Knopfler has this incredible ability to distill an entire experience into a lyric, but he does not get complicated with what he is trying to convey. He trusts himself. His songs are also honest to the point of cheesiness. My favorite song off the album is Wild West End.
Major Lazer has been listened to a lot recently.
Michael Hurley- first songs is always on heavy rotation
And Wonderwall Music by George Harrison ( the soundtrack to the film that Oasis wrote the song about) is one of my favorite albums.
M. Ward – I'll be yr bird can make me have an emotional reaction no matter where I am.
Best book read during 2010?
– Brief Interviews with Hideous Men, which is an old one, but it sure is amazing.
Who deserves a breakthrough in 2011?
– Tooth ache, Paleo, Made of Oak, and  Dana & Faith
Meet Mountain Man: