What Are You Listening To, T&O?
Trummor & Orgel is intense stuff! Instrumental, darting, heavy. The band smell of a 1965-joint, Hansson & Karlsson, Swedish hammond-psychodelia with a vengeance. It´s a jazz volcano ready to hit the streets.
Their new album Out of Bounds is released today, Sept 21, and we vote for a immediate success. Thanks to the two brothers Anders Ljunggren & Staffan Ljunggren of Trummor & Orgel who took time out of their busy schedule to answer our five Q´s.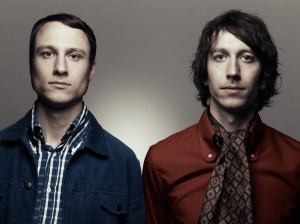 Photo: Daniel Olsén.
¤ What are you listening to, right now?
"At the moment we're listening our own album "Out of Bounds", haha. No but really, we're very satisfied with the result and feel that this album is the one you can listen to many times. Otherwise, we have rediscovered a lot from the nineties like The Charlatans and the Stone Roses."
¤ Best book read in a while?
"Well, we don't necessarily read the same books, but "Recording the Beatles" by Kevin Ryan and Brian Kehew helped out a lot during the making of the record."
¤ Your hopes for this year?
"A: Well, most of all, with our new record out we hope to reach out to even more people and find new venues and festivals to visit. It is a fantastic feeling to be able to meet the fans and to have the opportunity to actually get more fans."
¤ Three artists who inspire you?
"Musicwise, at the moment we are inspired by bands like Death Cab for Cutie and Two Door Cinema Club for their immediate melodies and pop tunes. However, in the background you will always find The Cure and My Bloody Valentine mixed with Brian Auger and Small Faces."
¤ Which artist or band deserves a breakthru?
"There are a lot of great bands out there that makes fantastic music. Side Effects is a young Swedish band which sees huge potential, playing psychedelic pop at its best. I'm sure we will hear more from them in the future. Frantic Sunday is a band from our home town Uppsala which is a great live act. Also, Andreas Stellan (also in The Works) who is currently recording his own Swedish material has a great voice and really deserves some serious attention."
¤¤¤Check out their first single, Worlds Collide: