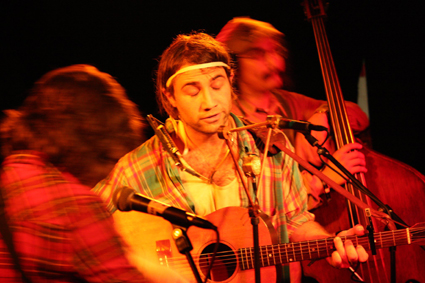 Photo: Maria Gunnesson.
¤ This night was something else. Woody West gathered three bands, all in that crowded, rowdy place called Pusterviksbaren, a small yet beautiful Thursdayfestival. The Head And The Heart started out, and man – you can tell why they were the talk of the town in Austin (SXSW). A band that just made new friends, Kentuckyseven will follow their great path. Then Woods did their folk-psych-thing and killed it. Jeremy Earls voice is from space, intense stuff. And then they entered stage, The Low Anthem.
These Rhode Island-fellas brought everything with them on stage, 14 instruments to choose from. Singer Ben Knox Miller started out with Ticket Taker from their 2009-album Oh My God Charlie Darwin and just rolled with it. We heard Hey All Your Hippies, Boeing 737, Apothecary Love and their most swedish song ever I´ll take out your ashes. The band mixed their folky roots with some aggressive rocktunes and let it all out. The place was packed, I had to lean over on the harmonium just to write these lines.
The Low Anthem is a great liveband. This Bella Union-quartet tours all the way to November and I would enjoy every gig. They lay their hearts out on stage and don´t think twice about it. It´s what they do. Jeff Prystowsky hitting the drums, Jocie Adams with that trumpet, it all makes sense, live music at its core. Before the lights went off they did a couple of a cappella´s and you got that religious, goosebumpy, powerful feeling. You know, just glad to be around when it happened.
Judge says: 6/7 Kentuckyseven´s.
Best song: Charlie Darwin.
They play next: Hamburg, Germany, March 25.
Look out for: Kentuckyseven got an interview with The Low Anthem coming up, stay tuned.