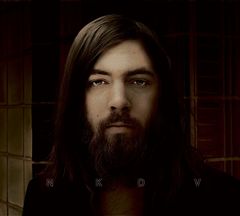 Grand Rapid´s singersongwriter Nathan Kalish made a beautiful soloalbum last year. We found it in our backviewmirror and it appears bigger than most other stuff. Away from his regular Wildfireband, Kalish has made nine songs in true K7-spirit. It smells of bearded men & Makers Mark, country & western. An honest tale.
Delicate Veins (released on Caveman Records) got the rootsy Michigan Women "Hey pretty lady, won't you keep me warm/through the Michigan winters of my soul", the introsong The Morning "I like to see it in the morning, when the earth still feels new, and the grass still has dew" and the epic All my life with that chillin disted guitar.
Next gig? Nathan Kalish and the Wildfire, Fri 14th, @ Jukes, Grand Rapids, MI.